Khushroo Poacha,Nagpur's good Samaritan spends time with CPSI kids
Each One Feed One
"Let money not be your master.Live life as you wish to live it not the way others want you to live"
These are the thoughts of Mr. Khushroo Poacha, a philanthropist from Nagpur who initiated 'Seva Kitchen' to provide free meals to patients and their kin in 8 cities across India. It was a privilege to have Mr. Poacha at Centre Point School International to talk about his initiatives to serve the people in distress. Mr.Poacha walked us through his stupendous journey of life that started at a tender age of sixteen! Moved by the plight of the patients' families outside hospitals he started Seva Kitchen. Mr. Poacha has several other initiatives to his credit.
indianblooddonors.com and platelet donors-org.are among them. It was truly an amazing learning experience for the students and teachers of CPSI.Everyone was spellbound and had tears in their eyes.
We proudly announce that CPSI is the first school to be associated with Mr.Poacha's New project " Muthi bhar anaaj" where anyone can share a fistful of grains to feed the people who are in need.
The learners felt extremely motivated by the words of inspiration and encouragement from Mr.Poacha.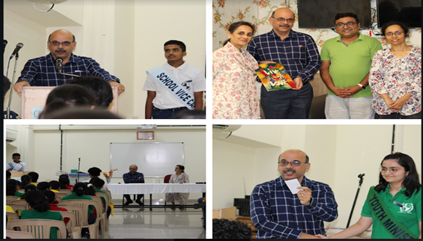 The outcome of this drive
"Muthi Bhar Anaaj"
CPSI had pledged to act in the direction of being one of the change agents by joining Mr Khushru Poacha's new project " Muthi bhar anaaj' We reached out to our students to donate a fistful of grains every Friday of the month. The first outcome of this initiative which is being led by the School Cabinet was donated on 20th October 2022 to Snehanchal- Palliative Care Centre for the Cancer Patients. We appeal to all students to be part of this initiative so that we can help more such programmes which ensure that the needy in our society are taken care of.