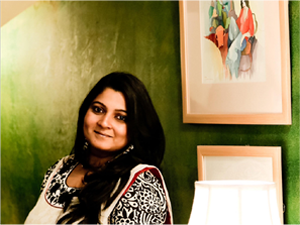 In 1979, when my mother, Aruna Upadhyaya started her kindergarten with 80 children, nobody foresaw the meteoric rise that would follow.Since then, conversations around our family dinner table were dominated by school issues; children, teachers and parents. It was organic, the way our close family of 4 would put our heads together to come up with solutions, no matter how large or small. Thus it was, that at the tender age of 5, my training in education began.
The two things that my mother said constantly, were-
1. Keep the child at the centre of your decisions, and you will never go wrong.
and
2. Trust your gut.
Armed with this dinner-table training and a genuine love for the schools that had been like siblings to me, I went to the UK and the USA for professional training in education. 12 years later, I came back to run the schools, and give my mother, who, until then had run the schools day-to-day, a much-needed retirement.

I've been at the helm of the schools for 5 years now, and it's time for the next step. I feel confident taking a giant leap in a new direction. One, that I believe, will change the face of education in Nagpur – a new school, with an International Cambridge curriculum.

I believe that as responsible human beings, we must constantly evolve into better versions of ourselves. This holds true for education too. With the new Cambridge Curriculum, we hope to inspire our children to be confident, responsible, reflective, engaged and innovative learners and citizens. In Centre Point School International, we will constantly train ourselves, to give you and your children the very best of this dynamic curriculum.

Keeping the Joy Quotient of students at the forefront, I feel confident that Centre Point School International will scale dizzying heights, while ably embodying our motto – 'Est optimum resurgemus', or 'Rise to your best'.
Radhika Rajwade holds an M.A (Education Management) from Kings College, London, U.K. and an M.A (Early Childhood Studies) from the University of Surrey, Roehampton, U.K. She also holds an M.A (English Literature) and B.ED from Nagpur University. She has experience working in a new -initiative Steiner school in London and has trained in a psychotherapy-based school founded by Sigmund Freud's granddaughter in the US. She lives in Nagpur with her husband Dr. Jaisingh Rajwade, daughter Anoushka (15) and son Veer (12).