THE CENTRE POINT GROUP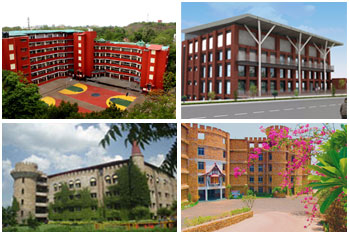 The Centre Point Group of Schools comprises 4 premier institutions of Nagpur with the latest addition to the family being Centre Point School International. The group was conceptualized in 1988.
Along with the Intelligence Quotient (IQ), emphasis is also laid on developing the Social Quotient (SQ), and the 'Joy' Quotient (JQ). It is this philosophy that is the guiding light of all academic and co-curricular activities taken up in the schools. Through a student-centred holistic approach which respects the individual needs of children, the schools aim to achieve physical, social, emotional, and academic excellence, and consequently human excellence.
---
VISION
The Centre Point Group of Schools set out to provide quality education to children within the context of mutual respect and joy. Since its inception in 1988, its aim has been to create awareness and develop skills according to the potential of individuals.
Education is not a sporadic process which is confined to the four walls of the school. It is a continuous activity which takes into its ambit the influence of several other enriching factors. Thus children are allowed to work in an environment of freedom and motivation, of acceptance and appreciation. We believe that all humans are born alike. It is education which makes them different. This distinction in every alumnus is the goal of the schools.
---
MISSION
At Centre Point School International, we strongly believe in the Joy Quotient(JQ), and as teachers, we take it very seriously. Children must enjoy learning, by doing projects, field trips, nature walks, challenging assignments, games, and puzzles which are all methods of joyful learning. We employ a variety of methods to guard against monotony.
At times a "joyful" lesson may mean a noisy, "indisciplined" class. We remember that when students become actively involved, and no longer remain passive listeners, they talk, discuss, argue, in short, make noise but at the same time they learn much more, from the teacher, from their classmates and from themselves.
Maybe, not all our students truly realize the boundless joy of moving from information to knowledge to wisdom. But we surely take them by the finger to discover for themselves the joy of moving from ignorance to information and some to knowledge, and leave them at the end of the rainbow, allowing them to walk ahead to wisdom.
---
CAMBRIDGE ASSESSMENT INTERNATIONAL EDUCATION (CAIE)
Cambridge Assessment International Education (CAIE) prepares school students for life, helping them develop an informed curiosity and a lasting passion for learning.
As part of the University of Cambridge, their international qualifications are recognised by the world's best universities and employers, giving students a wide range of options in their education and career. Their programmes and qualifications are created by subject experts, rooted in academic rigour and reflect the latest educational research, providing a strong platform for learners to progress from one stage to the next.
Every year, nearly a million Cambridge learners from 10,000 schools in 160 countries prepare for their future with an international education from Cambridge.