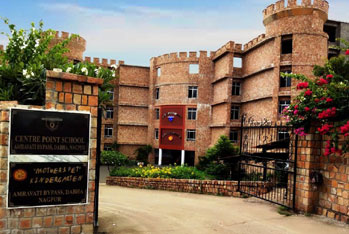 Centre Point Group of Schools, Nagpur was conceptualized to provide quality education to children within the context of mutual respect and joy.

Since its inception in 1988, its aim has been to create awareness, develop skills according to the potential of individuals and train minds to unveil the mysteries of the surrounding environment for the benefit of mankind. Through a student-centered holistic approach to teaching-learning which respects the Individual needs of children, the schools aim to achieve physical and academic excellence, and consequently human excellence. Education is not a sporadic process which is confined to the four walls of the school. It is a continuous activity which takes into its ambit the influence of several other enriching factors. Thus children are allowed to work in an environment of freedom and motivation, of acceptance and appreciation.

Students are not bound within limited academic parameters only but are given creative freedom and direction to develop as useful, happy and self-reliant members of society. Through visual, auditory and kinesthetic learning, the schools aspire to ensure improvement of the physique, enrichment of the mind, sublimation of emotions and refinement of spirits.

The schools believe that all humans are born alike. It is education which makes them different. This distinction in every alumnus is the goal of the schools.
Centre Point School International is proud to carry this vision ahead